You do not need to be a tech guru or and IT guy to make a few clicks on your computer to save your hard-earned bundles. You may have wondered how to make your bundles last longer, no matter your service provider.
Some are lucky to have home connections which are unlimited, either from Safaricom Home, Jamii Telecom (JTL), Zuku, among others. But, the availability of home connection and the high monthly cost pushes users to opt for mobile internet.
One advantage of mobile internet is that you purchase a bundle on a need bases and also that you can carry your phone with you and still access internet.
To use your mobile data to connect to the internet, one needs to tether their phone to the laptop. Or, use USB cable or Bluetooth connections to share phone's internet to the computer.
The most common method is tethering by opening a hotspot in your phone settings or quick access menu on your phone. This create a connection which your phone recognizes as a WiFi connection. You can then connect by turning on WiFi settings on your laptop and connecting to your phone WiFi.
So, what can you do to lower you mobile data consumption and, hence, your money?
Here is one trick for Windows Computers: Enable "Set as a Metered Connection" on your computer.
The Steps
– Connect your laptop to your phone WiFi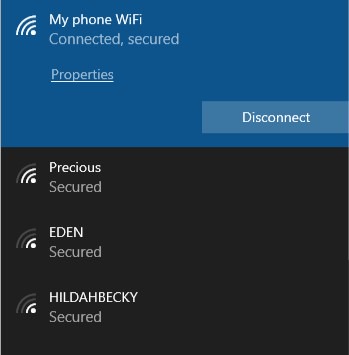 – After successful connection, click on properties as seen on the image above.
– Once open, scroll to find "Metered Connection" as seen below, to enable.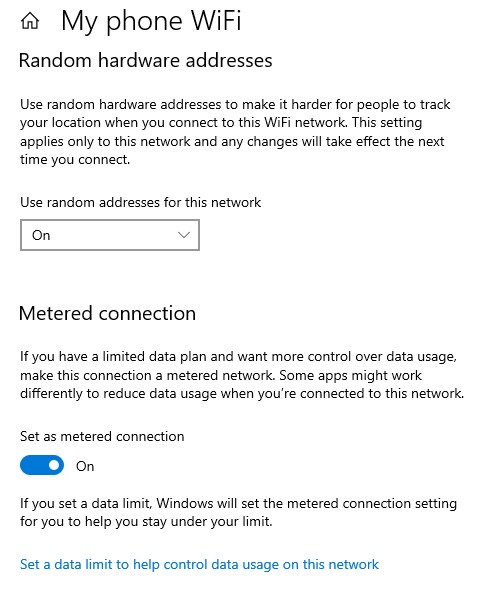 This step is critical as it controls how Apps on your computer uses your data. In simpler terms, it allows you to cut your computer's appetite to 'eat' your mobile data.
Some of the data consuming processes capped by this step is; automatic windows updates, Apps synchronization, automatic downloads among others.
In this mode, you computer uses data only on opened or allowed applications.